About the project
Since 2014, ViaBill has been enabling merchants and shoppers to buy now and pay later.
Delivering a convenient, flexible and competitive online payment option to shoppers in Denmark, Spain and the United States, ViaBill allows you to pay for your purchases over time, interest-free. Neat!

'Buy now, pay later' payment solutions

Country-specific content

Affordable and fully transparent financing
Challenges
While navigating through the twists and turns, we had our non-negotiables: uncompromising ease of use, geospecific content handling, and dynamic landing page customization.
User-friendly design: creating a navigable interface was a given
Country-specific content: geographic relevance and a straightforward solution was non-negotiable.
Landing pages had to be easily customizable
The ViaBill team aimed to rejuvenate their brand identity for better audience engagement, so they expected a design that shines on every screen and allows no-hassle edits without coding skills.

As always, WordPress stepped up and the new ViaBill website was born!
Users are our friends…
… and we're friendly! In this case, we've tailored WordPress's interface to make edits so simple you'll almost feel overqualified. Want to spruce up with a headline image or some snazzy buttons? Click, click, done.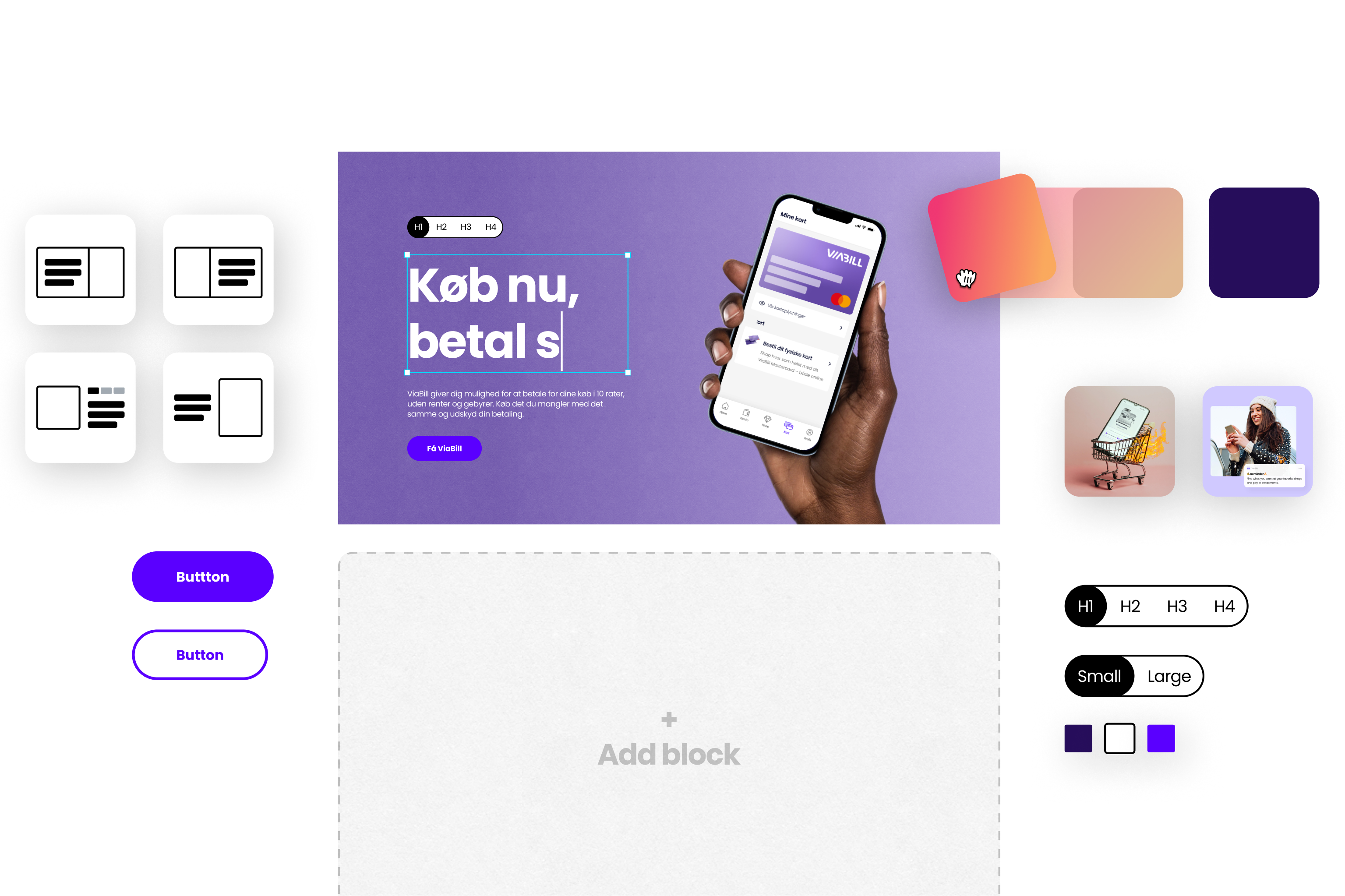 Countries are specific…
… and so is the content. Translated, we made it quite easy for the client to adapt the site content and language to the user's specific country of origin? Spain? Bienvenido! Denmark? Velkommen! USA? Howdy.
Landing pages…
… should be customizable. Sorry, we couldn't think of anything quirky here, but that's because we're dead serious about customizability! In this case, the client was able to create complex-looking landing pages in a blink of an eye!
Animations
When it comes to website flair, animations are pivotal. Our designers crafted seamless visuals and transitions, whilst our developers brought them to life. The final result = eye-catching eye candy.
Adaptive layouts
We're not just keeping pace with the future—we're defining it through responsive design. ViaBill's digital home is a testament to that – flexing effortlessly to fit any screen.
And finally, let's hear it from the client:
Nico Bagger
Operational Manager
"Neuralab spurred 400% growth within a few months. Professional and efficient, the team leverages a structured approach to project management to meet short deadlines. Transparency and seamless task completion have been hallmarks of this partnership."
Read full review on Clutch