Venture into new journeys with HBOR's export guide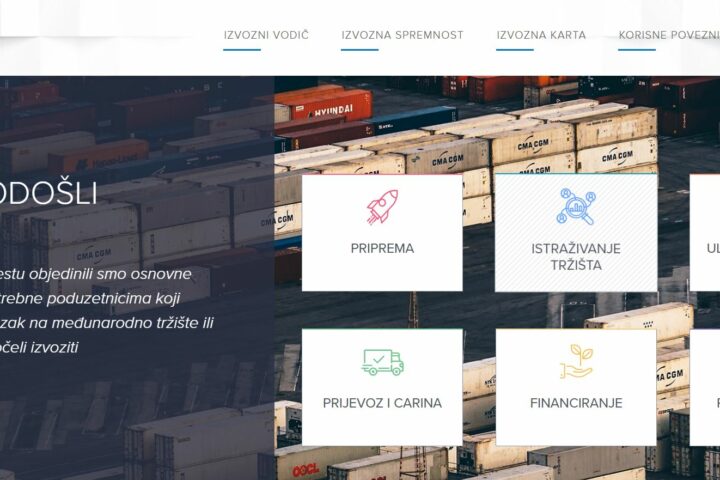 What do Germany, the Netherlands, France and Belgium have in common? In 2017, they were the four biggest exporters in the EU.
While recently Croatia got so close to being the winner of the World Cup, it's barely a participant when it comes to business. Only around 3% of the Croatian population are entrepreneurs and only 15 % companies they own export to other countries.
The folks at the Croatian bank for reconstruction and development (HBOR) have had it with opportunities passing by. Determined that lack of information will never again be a reason another entrepreneur doesn't set foot onto the fertile grounds of export, the new and improved HBOR export website saw the light of day.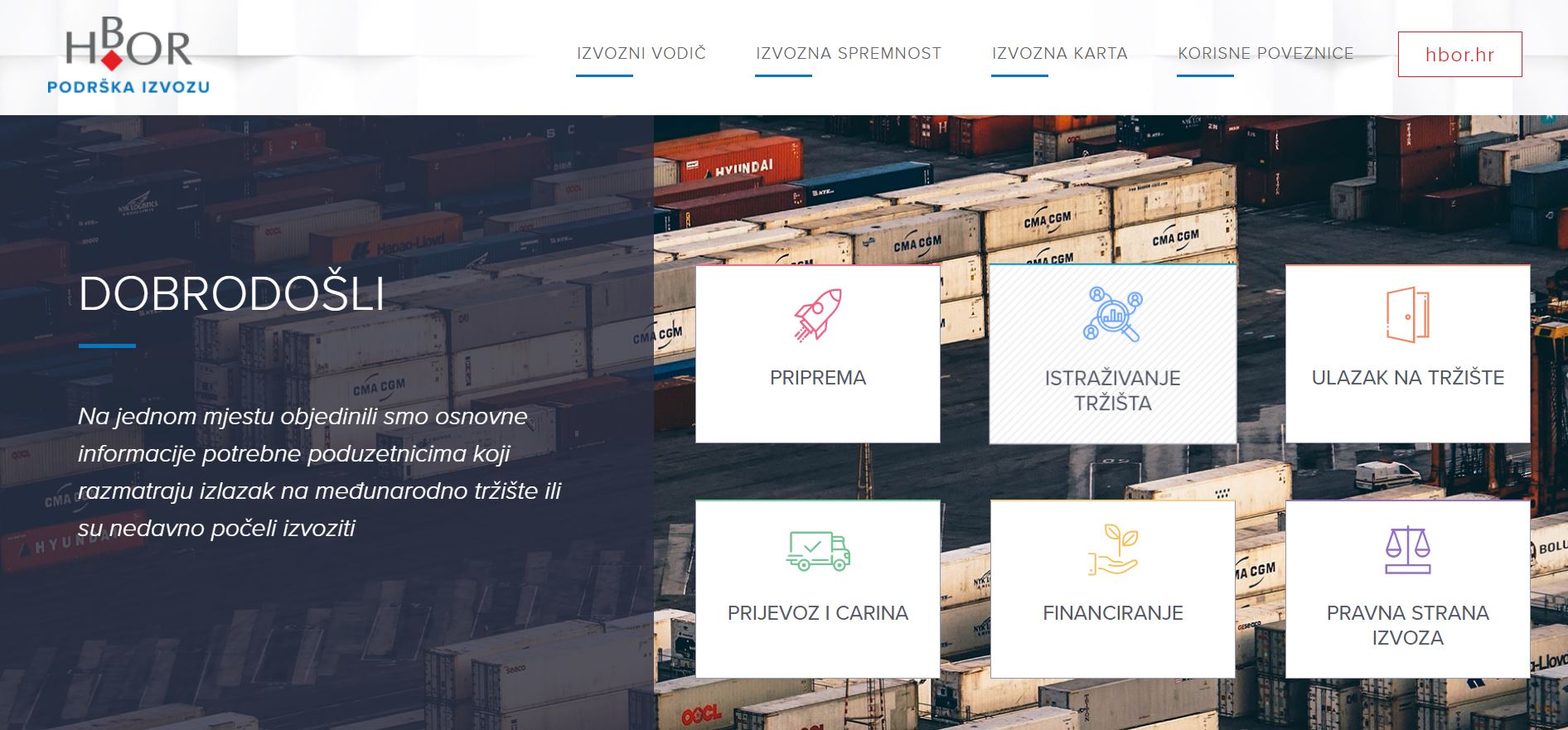 The first glance at HBOR's new web
The website encourages entrepreneurs to consider exporting opportunities, insisting there's never been a better time to try it. There are no more trade blocks. Communication, travel and transport are easier than ever. Trade agreements are in place. All of the above put together means goods and services are being traded at an unprecedented intensity.
Additionally, it provides complete and thorough information in one place. For those dwelling on whether 'to export or not to export', the website gives arguments why entrepreneurs should take the leap, such as the fact that:
The Croatian market consists of 4 million consumers, at the most

Croatian exporters make up 65% of total sales income and are credited with employing more than

half of the

workforce in firms.
At the same time, it does not shy away from the possible challenges, rather attempts to offer solutions and suggest which course of action to take. Some of these include a section with answers to frequently asked questions. Also, there is professional advice for building a draft export plan for your company. Finally, you can view an export map that shows export statistics between Croatia and other countries, pointing out where the competition runs smaller and how trade is regulated between countries.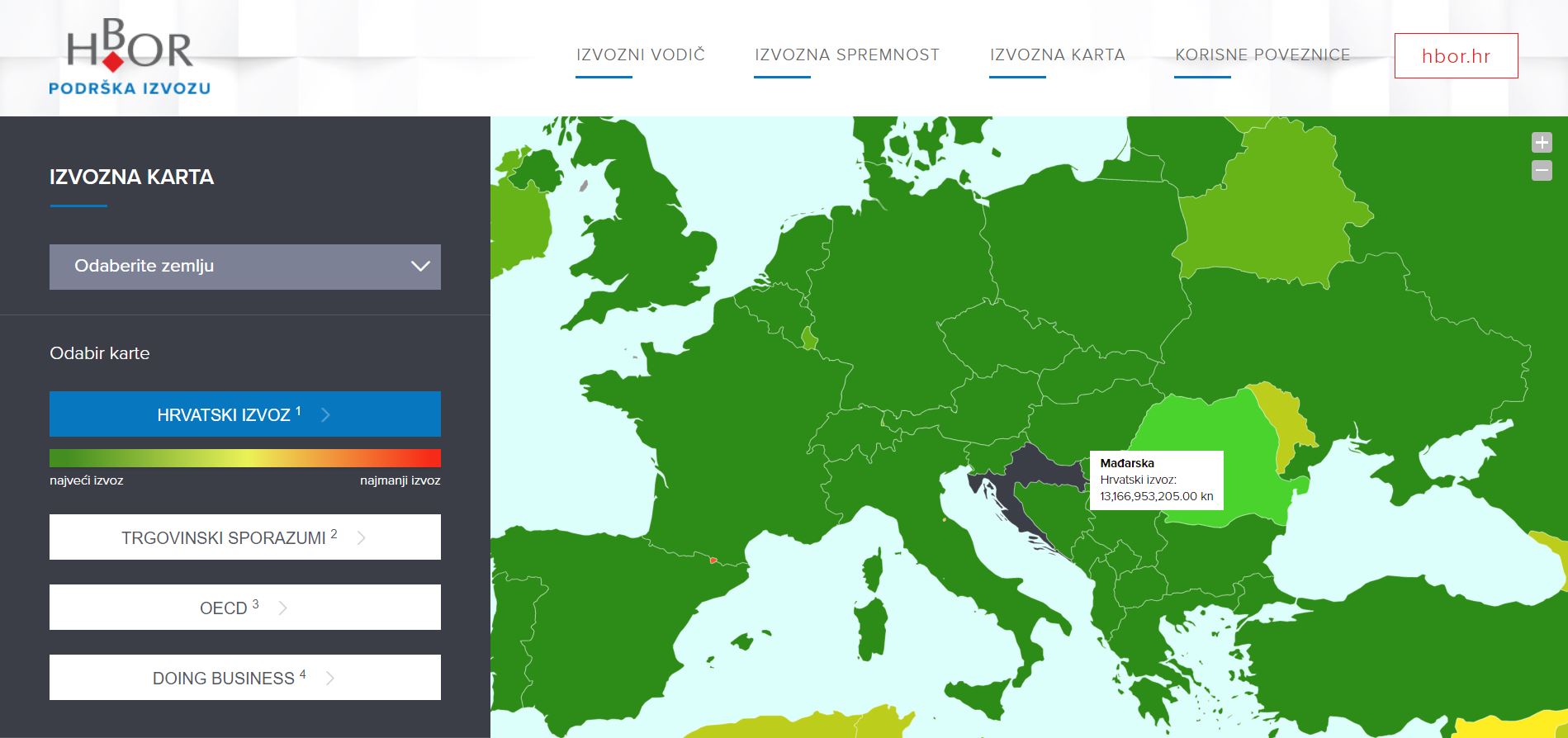 Once you've read up on the theoretical part, you can put it into practice. Go through the export prerequisites checklist and then take an interactive test which will not only help determine whether your business is export-ready but also provide recommendations for the aspects that need work in a report conveniently sent to you by email.
It's all there, neatly packed in an intuitive modern digital platform proudly developed by Neuralab.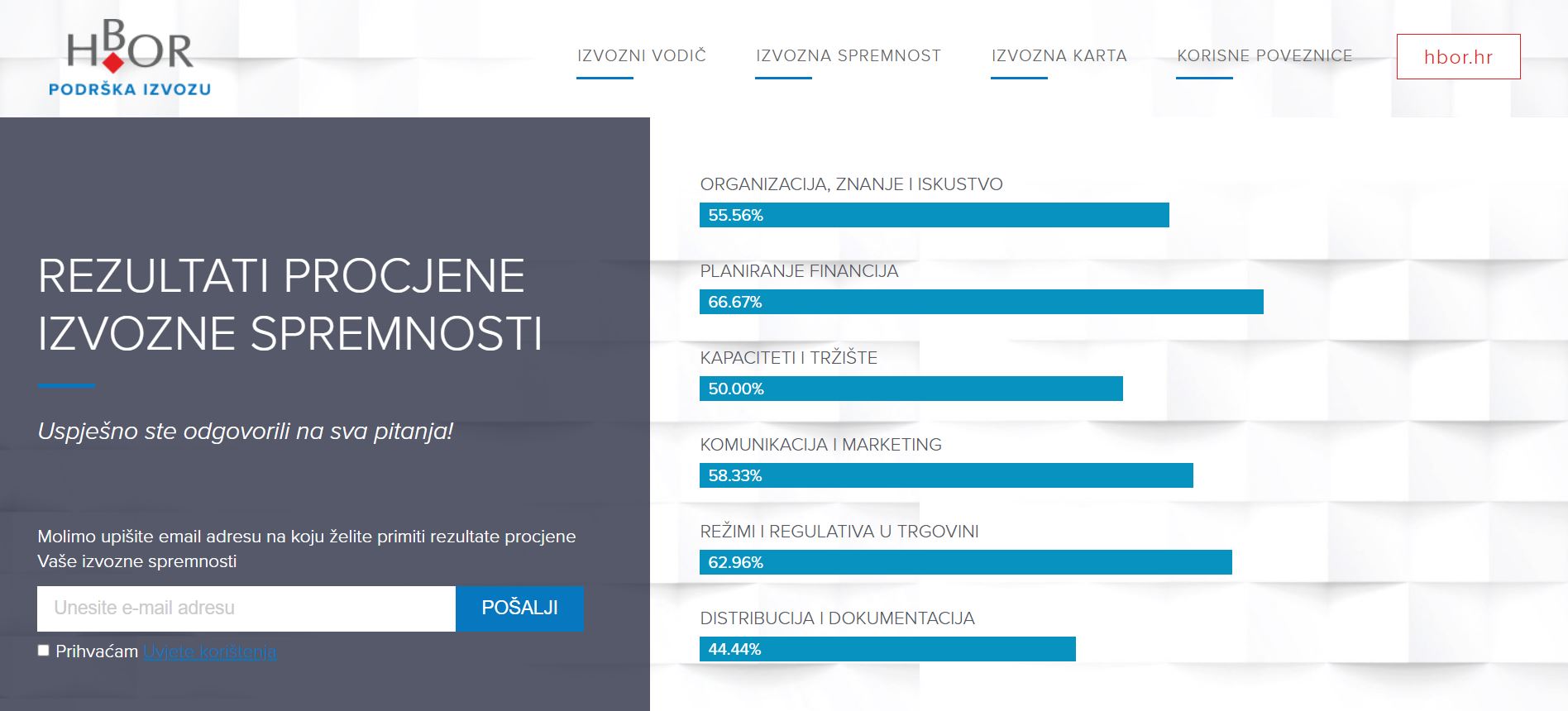 A word from the makers
To find out more about the origin of the helpful new website, we pinged HBOR's representative Iva and asked her to unveil a couple of details about the process of creating the website and how it's affected their business since its release.
What was the main principle guiding the creation of the new website?
The aim of the project was to make all the information necessary for entrepreneurs to start exporting in foreign markets available at a single point of contact. The initial idea was to publish it in print, in the form of brochures or booklets. However, once we collected all the information and realized what type and scope of information we were dealing with, we decided to go with a web page. Neuralab was able to create an interface that's both efficient and appealing.
Were you influenced by the digital platforms of modern banks that have gained popularity recently?
Our website contains a very particular type of information useful to exporters and those wanting to start exporting.  There are hardly any portals that present those two types of information out there, but the websites of the export agencies of Ireland and New Zealand were the most similar to what we thought our website should look like. So I guess you could say we looked up to them.
In what way has the new web changed your daily operations?
In the scope of our responsibilities, at HBOR we also deal with financing and insuring export. One part of that process is our role as advisors, and the website we created helps our existing and potential clients to be better informed, to recognize the advantages and challenges that entering foreign markets brings more easily, and to test their business to see if they're ready to start exporting. All with the goal of becoming more efficient in managing their business, investing and exporting, which ultimately results in great new projects to finance.
Who should know about this web?
HBOR envisioned their platform as a springboard for entrepreneurs who are already crushing it in Croatia, to help them reach the next level. They believed that the majority of successful local business owners are not getting their numbers multiplied on a foreign market simply because they haven't explored their export potential.
Their other mission is to familiarize the general public with the topic of exporting and raise awareness about the opportunities and benefits for potential exporters.
Sounds like somebody you might know? Share HBOR's new web with them and you might just witness them going from export-oblivious to export-expert before you know it.