WordCamp Split 2016: Go-to Place For All WordPress Enthusiasts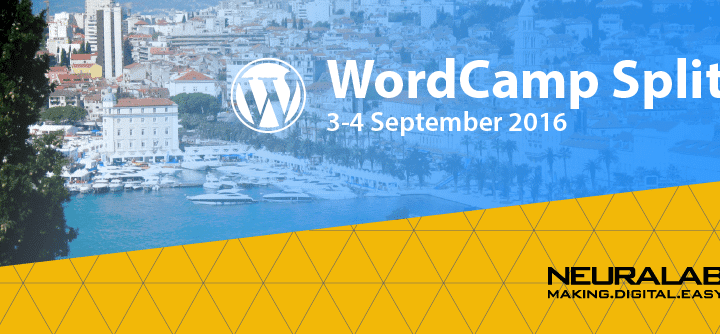 Croatia's second largest and one of the most beautiful coastal cities in the world, is going to host this year's WordCamp 2016.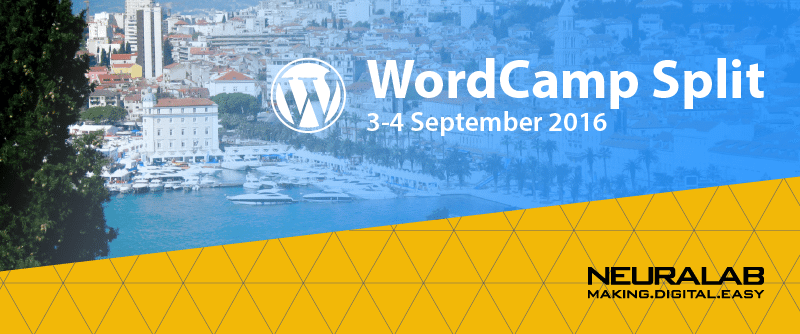 It's a weekend event (3-4 September) that every WordPress lover should book as a go-to place for meeting people and sharing stories with the WordPress loving community.
If you've already been at this event last year in Rijeka, you know what we are talking about. No, not the after-party (which is truly icing on the cake) but workshops, panels and quality number of speakers that will keep you up-to-date with the latest WordPress trends. Heads up for all you guys and girls looking for a job because Neuralab is also going to be there and we are always looking for young bloods to join our team.
After last year's event in Rijeka, Croatian WordPress community is organizing this year's WordCamp 2016 in Split – which I'm personally glad for and I think Split is going to be a wonderful host for this conference. Every WordCamp is phenomenal potential for meeting people, having fun, getting new opportunities and studying. It can also be inspirational, seeing and getting a real feel of how it's all done by regional leaders. It surely can change your life and business perspective. Organizing WordCamp gave us an opportunity to set up all day long free workshops in Split. We're going to cover various topics both for beginners and advanced users. It doesn't matter if you are using WP or not, you will benefit from them. Plus they are free for everyone! says Ivan Blagdan, lead organizer of WordCamp Split 2016.
All this will take place at Faculty of Economics in Split which is also one of the organizers of this years conference. Congrats to them for making this happen in beautiful Split.
Check out Neuralab workshop at this year event and learn valuable tips about managing WordPress projects:
Intro
While WordPress makes publishing easy, it's the other way around when you need to carefully plan your next WP project. As with any software building process, we will look into various topics that can influence our project success or failure: design, clients, budgets, timetables, pesky bugs, user feedback etc.
Form
Workshop will cover three main phases of every WordPress project: Planning and preparation + WordPress project execution + after-launch support phase. Each topic will host an intro, Q&A and interaction with modern tools of the trade.
Background
Software development projects are a complex nut to crack and WordPress is not an exception. This workshop will look at the typical traps and catches of most WordPress project and how to avoid them. First we will take a look on the planning and preparation phase where we will define various project roles and types of business requirements to kick off a project into execution. Execution topic will cover team handling and overview of modern tools to help you out in project production. Last topic is oriented towards launching your project into the world and managing first feedbacks, support tickets and how to integrate them into the evolution of the WordPress app.
Intended Audience: Junior designers and developers
Lecturer: Krešimir Končić (@kreshomir)
For more info about the schedule, speakers and how to get your hands on tickets head over to WordCamp Split 2016 official web page.