About the project
Learn Practice Communicate (LPC) is the first e-learning webshop in Croatia that offers more than a hundred different educational programs in the areas of the most sought-after skills in various professional domains. We were selected to develop a cutting-edge website with an integrated Learning Management System and we certainly rose to the occasion.

24/7 e-learning with both free & paid courses

Engaging and multilingual content – fit for any market

300+ courses and 1000+ quizzes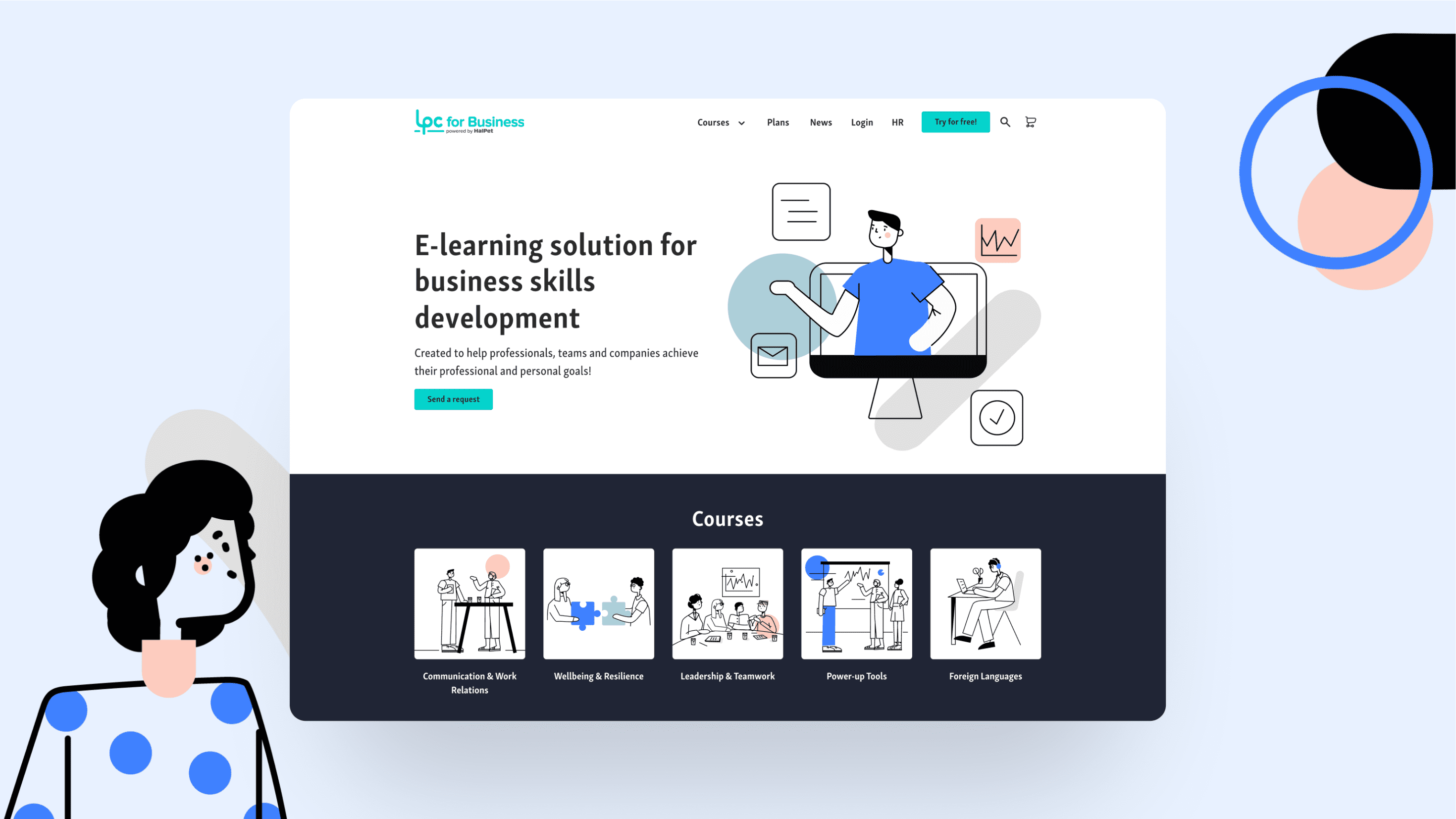 Goals
LPC for Business was born from a vision to uplift professionals, unite teams, and guide enterprises towards their utmost potential in both professional and personal spheres.

Our dedicated team has crafted a one-of-a-kind online learning solution, complete with a wealth of easily accessible educational programs. LPC's clients have the option to pick educational courses for their employees, customizing them to fit specific timeframes, all while closely tracking their progress and development.
Why LPC method?
The LPC methodology is a tried-and-true approach to teaching. Drawing from years of educational experience, LPC have distilled their approach into three fundamental steps: Learn, Practice, Communicate.

Learn
Acquire new knowledge in a structured and straightforward way
Practice
Reinforce newly acquired knowledge through interactive exercises and activities
Communicate
Validate learning outcomes and seamlessly integrate new insights into daily routines
Universal, yet personal
Upon logging in, users step into a tailor-made universe of knowledge, filled by a vast array of learning opportunities waiting to be explored.
Education
Navigating through courses is a breeze, with smooth transitions between lessons, ensuring an uninterrupted and immersive learning experience.

Challenge your freshly acquired insights with diverse quizzes, crafted to reinforce your understanding via hands-on application.
Quizzes and tests
Interactive quizzes and tests incorporate a diverse range of questions, enriched with visual aids and audio elements, all seamlessly woven together to provide a comprehensive and engaging learning and assessment experience.
Branding
Our designers conceived a distinctive and striking brand identity for LPC. Through an emblem and design motifs that mirror LPC's dedication to education and advancement, they've manifested a contemporary, agile, and polished visual persona.
Petra Čolak
CEO
"Neuralab is willing to tackle challenging projects. The team excels at implementing solutions that address client needs, which is evident in the impessive sales statistics of the award-winning platform. The team is also patient, flexible, and open to feedback."
Read full review on Clutch