Chat Alley – Messaging App That Works Without Internet Connection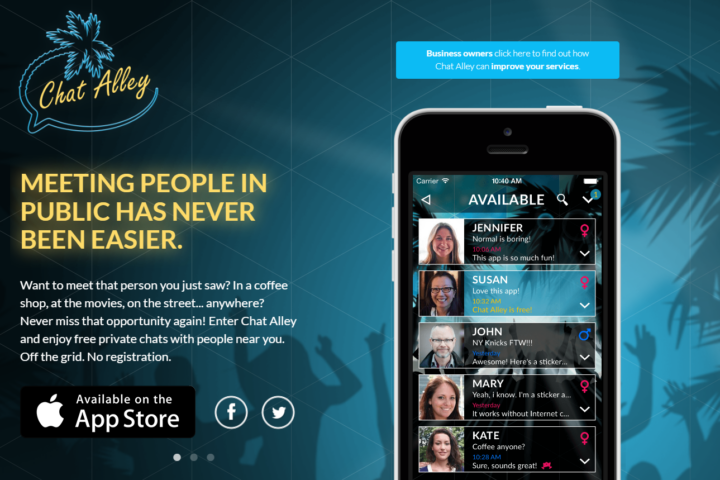 After introducing 2 Note from a few years back, Genesis Mobile hits App Store with another app out of their workshop.

Chat Alley is launched! It is intuitive and easy to use free app for chatting with people in the same place as you are. And when we talk places with this app, our minds are set on club, restaurant, subway or street type of places. These are the locations this app is going to be used.
Ok. But it's yet another messaging app, you say. Well, no! It's not!
This one is not a typical messaging app because this one works without internet connection and is also free of any registration hassle. Chat Alley accomplish this by using a new technology for communication – multipeer connectivity, that allows up to 200 feet for direct peer-to-peer communications or more.

So now we're talking.
How it works?
Opening the app for the first time, you are asked to choose your gender and enter your name, photo and status. This is the only information other Chat Alley users will see at your place. After you are finished with entering your information, next screen shows you all the available people around you.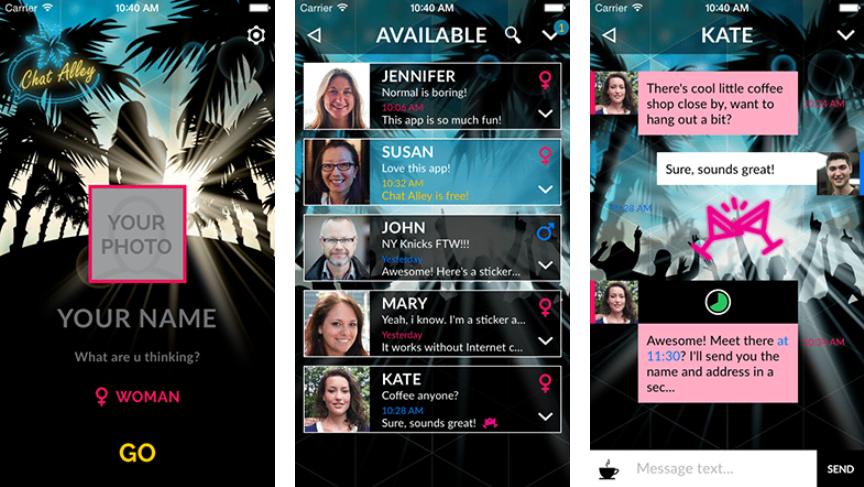 Why should you use Chat Alley?
Here is the example. You are at the bar, and you see a beautiful girl sitting alone at the table. She is so gorgeous you can't move your feet to let her know you're interested. Then you remember you have Chat Alley installed on your smartphone. Open the app and send her a message. Customize your message by using various stickers and photos for a more fun interaction. Chat Alley has even got you covered with 60-second messages that auto-destruct after 60 second pass. That's it. Ok, it's not so easy as it sounds. Girl you are sending a message also needs to have Chat Alley installed but you get the point on how this app could be used.
Chat Alley is a perfect app for creating new connections with people that are close by. Head over to Apple App Store and try out Chat Alley app.
Have a question or need more information? Don't hesitate to reach out.
Full iOS development and copyright by Genesis Mobile ltd.
Designed by Neuralab
Also featured on: AppAdvice tportal.hr Mob.hr