Rimac Merchandise eStore – a 360 degrees product shoot case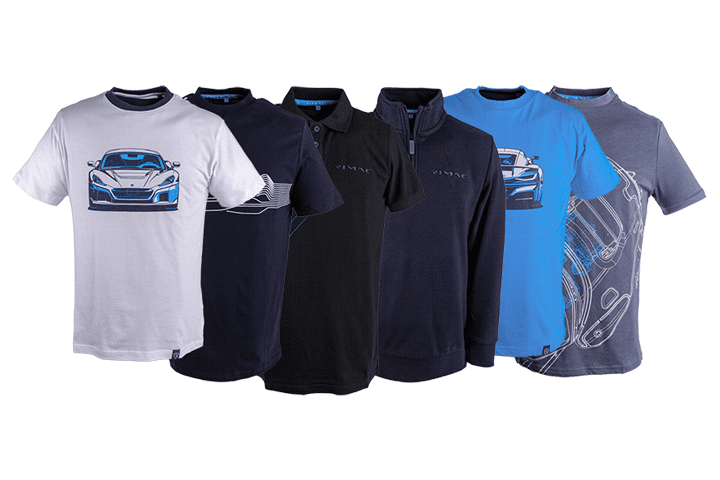 360 photography is an advanced manner of product photography that is used to better visually display products on a webshop. In the past decade, 360 product images have become a popular comrade to standard product images.
If you don't have the means to cash up for a supercar Nevera, but still have a need to own a piece of Croatian unicorn, owning a t-shirt or baseball cap with the company's attractive designs is the next best thing – hence the Rimac eStore.
Neuralab team was approached by Rimac Automobili who were already at the final stage of building their merchandising webshop.
In addition to 'regular' model photoshoots, Rimac wanted to incorporate 360 models into a single product section of their merchandise stock. The main thing communicated – they didn't want 3D rendering! Even though it is a quicker, easier and cheaper solution to execute, in the end, you can see that the product is artificially generated. You can't really observe all the quality features of the t-shirt – let alone the type of material and the creases formed in real-life use. And that is an important aspect of the apparel industry.
The production itself consisted of photographing each item 36 times in 10 degrees increments. T-shirts and baseball caps were put onto a mannequin and steamed in order to eliminate creases caused by delivery packaging. For lighting, we used a 3-point setup with 2 main softboxes directed straight onto the subject at a 45-degree angle. The third light was behind the subject in order to over-expose (burn) the backdrop and achieve a pure white background. The mannequin was on top of an automated 'lazy Susan' so that we get exact rotation each time.
The raw footage was then imported into Photoshop for usual post-production. Each shot was keyed, color corrected and graded, and exported in full resolution as a .png file with a transparent background. The photos were then sent to the client and their developers who incorporated the photos into a single product section for users to view and rotate.
Executing such a project is not rocket science, but it is finicky and involves a fair amount of photo gear and post-production experience. If you're a merchant and want to embellish your online store with spinning products, contact us and we'll together create a unique piece of content that will entice your shoppers.