[VIDEO] 4 Hottest topics on New Europe Market NEM 2016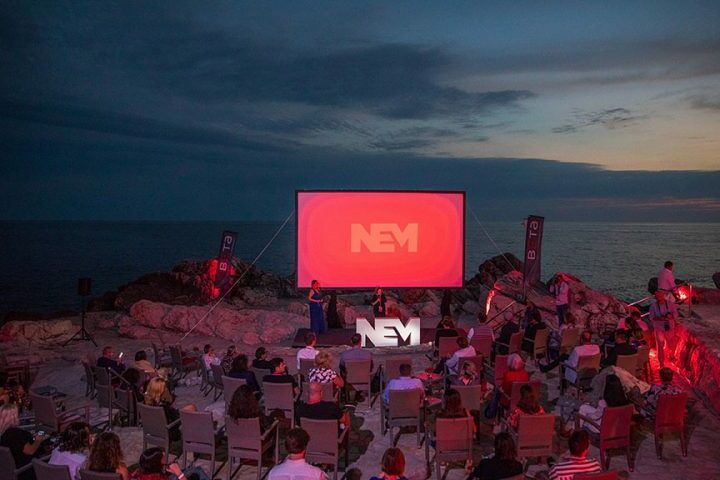 Batman VS Superman, Deadpool, Captain America, Warcraft, Star Trek… You would guess that these summer blockbusters were the hottest topic at this year's New Europe media market… and you would be wrong 🙂
There are far more "earthly" and non-geek topics that trouble executives across the TV, Cinema and web video landscape. We summed up a couple of interesting themes that seemed to constantly catch up on people during various workshops and lectures.
TV is better than movies
It's an obvious trend and your weekend binge-watching proves it: TV series are kicking movie asses and this trend is shadowing all feature films production. It probably all started with AMC's Breaking Bad, Game of Thrones or House of Cards and the signs are ever evident. There are three exact reasons that lecturers talked about during NEM panel sessions:
Tv shows are bypassing cinema distributions, making it easier to manage deals, rights and airing dates. You can watch your favorite shows the minute they are done cooking it in the studios
The rise of millennials and their micro attention span boosts the need for tightly packed, highly dynamic content. Tv series was meant to be watched across ten weeks, emerging you into the story and connecting you with the characters. Now, you binge the whole thing in just ten hours, making TV series practically like a quick pleasure bomb.
Budgets can be tightly optimized when producing TV shows. Henning Tewes, CEO of RTL Croatia explained that in some markets (especially Eastern Europe), you can produce only TV series and that movie production for media channels is practically (financially) impossible.
Elephant in the room
Here's an overview of NEM buzzwords – summer, Dubrovnik, food, wine, London essentials, food, swimming and Netflix. Yes, Netflix was the most used word during panels and lectures making it even more obvious that this service is the real disruptor in the industry. But, there were a couple of "gotchas" regarding the Netflix momentum:
Netflix's arrival on the eastern European market is considered a generally positive thing (video, 03:11) as a rising tide lifts all boats. They are educating users (market) and basically, all OTTs or Telcos have seen the growth of their services and data usage.
Gabriella Vidus, Hungary RTL CEO, presented pretty solid insights on why Netflix did not hook on the Hungary market. It was basically a cultural issue as Hungarians do not consume subtitles, only dubbing, which is not supported on Netflix
On the other hand, the Croatian market got a firm grasp on Netflix and its English subtitles, making room and space for niche vendors like Pickbox to find its place under the localized subtitled sun.
All panelists agreed that the future is in recommendation algorithms. BUT there is a need for bigger sets of data and more connected content (video, 02:45). It only makes sense to build a recommendation engine in the US. They have quite a large video catalog and they have massive amounts of users, ready to dissect every pixel of your video usage.
Cult of the amateur
Andrew Keen wrote about it in 2007, you are probably seeing it everyday on your news-feed.There is a shitload of content piling up on digital media every second (and TV is not immune to that). Editors and product managers have a tough time filtering out the noise and giving users only the best content. With that in mind, all panelists agreed on a couple of trends
The number of tv channels needs to be reduced as this is not important for selling the IPTV or Telco-OTT services ( people want to choose between a couple of high-quality channels )
It's difficult to manage viewing rights, schedules and availabilities of all sorts of channels. The volume of content needs to go down based on this operational reason
Users will need to have the same viewing, recording and catch-up rights on every channel they have access to. This will reflect in bundling and package simplification
One particular field will be on the sure rise: payment bundlers. These are services that combine all of your subscriptions to various TV, media and internet services and provide you with a single billing invoice.
Linear is here to stay
A lot of opinion makers predicted the fall of linear TV, but looking at current numbers, these statements belong in the museum of worst tech predictions. Most executives and analysts forgot a couple of human "features" that User eXperience designers know for a fact – people hate choices and more importantly, people especially hate a lot of choices.
In that way, linear TV is an easy-to-consume "no-brainer" medium that has more and more influence on his younger sibling – the Internet. The message of the conference was clear – forget about the package bundles of 150 channels and 3000 shows on your on-demand platform – users will buy into a couple of hand-picked channels and some of the on-demand shows fused across all of their devices. The question remains… how to get in front of their eyeballs and tapping fingers?
You can watch our full video for more answers on this topic or even write up your own thoughts and comments below. Bring the noise!