WordCamp Europe 2019 Berlin – a photo story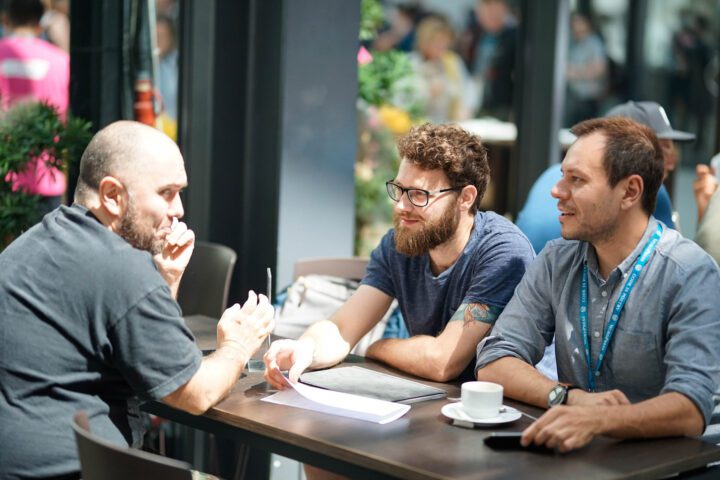 Neuralab team visited #WCEU Berlin, hands down the biggest WordPress event to date. Berlin seemed like a perfect location for this massive WordCamp. Situated in geographical heart of Europe, this city is one of those places that symbolizes changes and discrepancies all around.
You're mistaken if you think that this is not connected to WordPress ecosystem. More than 3000(!) WordCampers presented that you can get-together all sorts of people, teams and companies to display one unison support towards our favorite CMS. In addition to fantastic record as the largest #WCEU to date, organizers reported that the majority of visitors (56%) were first time attendees. Even Google, pulled over one of his biggest "tents" and became THE sponsor of the show.
Our team visited most of the workshops, lectures or panels and there was some lacking of advanced topics. Our problem is that most of these talks are old news, and yes, we get it that content is "still king" and that you need to "mobile-optimize" for SEO in 2019, but this was also valid in 2017. Even the blockchain lecture was missing advanced technical explanations – the presenter tried to explain whole blockchain concept in couple of seconds with random audience members. In any case, future WordCamps could use a spruce up of technical demos, advanced development talks and enterprise-grade case studies.
On the other hand, we still enjoyed in these 3 topics:
Vladimir Smitka, a security researcher/hobbyist from the Czech Republic gave an interesting talk about securing WordPress installations and how you can pen test them. You can find out more on his personal website
David Needham, a Developer Advocate at Pantheon explained the usage of GIT Bisect and it's experience with bug and issue tracking through code commits. This was advanced development topic, especially if you're venturing into complex WP deployments. Find out more on David's personal website.
Simon Cook is a Design, Digital Marketing and Sales specialist with over 20 years of industry experience. He gave a 15-min talk about enterprise-grade sales processes and how to technically structure your teams in coordinating sales efforts for larger clients. His takeaways are – use the pipeline, your cumulative potential deals worth should be 3x your revenue forecast, you should track both your new business sales AND your sales from current customers.
But our biggest fun was getting out of the office, enjoying lagers, BBQ and talking with campers from all across the continents. Automattic even organized a dinner for official WooCommerce experts which we're truly thankful for. Cheers for Mechiel and the rest of the Woo team!
We're currently looking for WordPress developers so if you are eager to jump WP ship and be in these photos next year (Portugal oh yeah!), give us a bump and apply for this WP job opening. Good luck