VeeMee promo video [case breakdown]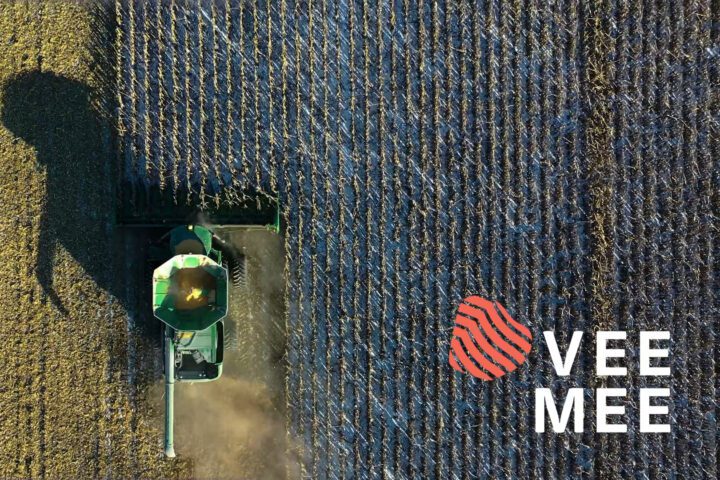 VeeMee has been our client for quite some time now. Back in 2017 we recognized the value of their philosophy and decided to back up this startup with building their web platform and supporting their rising ground. Fast forward to 2020 – VeeMee grew into a respectable digital traceability platform in the agricultural and commercial sector where consumers can find out all about the origin of the products they buy.
This summer their CEO Marko Kozjak reached out to us to produce a promo video for both their marketing efforts as well as for sales work. The deadline was (as always) rather short – only 20 working days from conceiving a script to rendering the final video. The challenge was to clarify VeeMee's work to end-users but also for their future agricultural associates in an understandable language without techy mumbo jumbo. We've concluded that a graphic explainer video was not the way to go. We needed a video that generates emotion and is easy to comprehend. Hence we needed to get out on the field and record the people who put the food on your table.
PREPRODUCTION
The general idea was to produce a video with a voice over and a bunch of b-roll, intersected with useful statistical numbers that represent VeeMee's influence on the market. So, producing a quality script was of the essence. We set the duration of the video to be up to 2 minutes in order not to exhaust the viewer. With that in mind, the script had to be concise. With some back and forth comments and adjustments, we sent the script to recording and started to work on the storyboard and shot lists. Seeing I was a one-man band on this project this was crucial in order to shoot everything needed on the field. With the storyboard completed, I jumped on logistics tasks and confirmed all the scouting and shooting dates with people and firms involved.
PRODUCTION
We divided the shooting into 4 settings – farm, warehouse, transportation and distribution chain (AKA the store). The budget didn't allow for drone shots, so I relied on gimbal slow-mo recording to produce that cozy effect. All the characters in the video are real people in their element which gives the end product true authenticity. Whatever I couldn't record on my own I substituted with stock footage. Getting a major chain to allow us to shoot inside their stores during the Covid-19 pandemic was a bit of a challenge, but we managed to get 30 minutes to record and got back to our Transmeet.Tv run&gun shooting roots which was fun, to say the least.
POSTPRODUCTION
After compiling all the footage and voice-over, I headed to Epidemic Sound in order to find the ideal soundtrack. As always the perfect track presented itself and the editing could start. Subsequently completing the skeleton of the video I started to work on the graphics and placed them on strategic shots in order to achieve better production value. We presented the draft version to the client and the reactions were very positive and with minute iterations, so I knew I was on the right track. I'm lucky enough to have a team of in-house designers, so every video goes through their close examination with elaborate feedback on my part. With final polishing and color grading, we managed to complete the promo video inside the deadline and yielded (pun intended ;)) yet another happy client. In addition, we produced a second version with English subtitles, seeing that VeeMee boldly set foot on the EU market.
In the end, I must say we enjoyed thoroughly working on this project and learned a lot about all the steps needed to put quality food on your table. We hope that by making this video we can contribute to raising the living standard of farmers and the return of young people to rural areas.
VeeMee – Because sometimes it's good to leave a trace!