You reap what you automate! WooCommerce and Mailchimp automations – match made in heaven.
Email automations bring people back to your store, boost customer loyalty, and most importantly sell more stuff! Simply put, email customer journey uses automation to send out personalized emails when the customer sets off a specific trigger.
Listen to this article
Email marketing is a lifeblood of eCommerce, but if you're using it wrong, it could backfire directly on your visitors and customers. The name of the game when it comes to email marketing is to maximize your conversions while minimizing your tiresome manual work and churn rates. To do this successfully, you need to make sure you have a careful balance between sending volume and making sure you're sending the right message to the right person at the right time.
Enter stage – customer journey automations! They bring people back to your store, boost customer loyalty, and most importantly sell more stuff! Simply put, email journey uses automation to send out emails when the customer sets off specific triggers (for example subscribes to a newsletter, makes a purchase, fills a survey…). Since automations are mostly powered by 'if-then' deduction, they adapt to match the individual pathways your customers take.
By combining WooCommerce and its rich ecosystem of extensions with MailChimp's robust API and automation features, businesses of any size can benefit from automated workflows. As both Woo platinum partner and Mailchimp partner, we at Neuralab educate our clients on how merging these two platforms into creating automated workflows can increase both engagement and conversion rates. We conduct those kinds of automations to maximize User eXperience, minimize the merchant's operating load, and increase possible customer touch points. All this in the end results in increased sales.
What's the stack?
WooCommerce and Mailchimp talk to one another via their heavily documented and robust set of APIs. There are four steps in the WooCommerce-Mailchimp alliance process.
Install and activate the Mailchimp for WooCommerce plugin on your WordPress Admin site
Configure settings and sync your shop with an audience in Mailchimp
The plugin syncs the customer's first name, last name, email address, and most importantly, their purchase activity and order history. Merchants can track their products and orders directly in Mailchimp. With these data points, you can tailgate sales and create targeted e-commerce automations. In addition to this, there are so many other options you can utilize with this plugin like showing product recommendations, segmenting customers based on their purchase history, setting up Google remarketing ads, adding discount codes to your emails, embedding a pop-up form that converts your website visitors to subscribers… Being a full-blooded omnichannel tool, Mailchimp can even send printed postcards, a tactile add-on your clients will appreciate.
So what do clients want the most?
What kind of customer journey and email automations can (or better yet – should) you actually build? Seeing that the possibilities are abundant, merchants tend to get lost in all the options. In the end, they give up and pass over a valuable tool in their income-generating arsenal. It's always a good idea to break up all customer journeys into pre-purchase and post-purchase categories. That way you can set your strategy more clearly. Our advice is to start small (just to get the hang of it and see the results) and always push on with automations that focus on driving greater customer experience. Here's a list of 5 most coveted automations by our clients:
Welcome note [Automation trigger: subscription to a newsletter] – A welcome email is the first email someone receives when they join your mailing list. They are opened 4 times more often than most other emails, so make sure to capitalize on this opportunity and build a lifelong connection. Welcome new subscribers and familiarize them with your brand, but also consider incorporating a compelling next action like an incentive to purchase (offer a special deal or a discount), thus turning subscribers into potential customers.
Post-purchase follow-up [Automation trigger: a purchase being made] – Someone made a purchase in your online shop? Kudos! Now make them feel like they're a superstar and bathe them in a positive shopping experience. In reality, people are expecting these emails and they do get opened! Thank you emails experience an average open rate of 42% and a Click Through Rate of 14%. After the purchase, delay your automation for a day or two and give out details about the product in order to get them excited to use it. One day after the product is delivered you can share suggestions on how to use it. Then wait for a fortnight and send them the next most wanted automation – request to leave a review.
Product review [Automation trigger: X days passed after a customer placed an order] – Online reviews are one of the biggest reassurances customers can acquire while browsing through your products section. In addition, quality feedback helps you improve your products and overall service. Request for a review starts when someone makes an order. The first thing you do is wait! Nobody wants to get a request for a review minutes after they purchased it. Remember to calculate your shipping and delivery timeline. So, wait for at least two weeks and then send them an email. You should emphasize how customer feedback helps to improve the product as well as how their opinion can influence other people. It's imperative to make the process of leaving a review as simple and quick as possible. Tip: use a one-question survey or redirect them to the single product page (the one which they purchased) where they can leave an immediate response.
Pre-VIP email [Automation trigger: one order short of a certain threshold from becoming a VIP] – Nearly half of any eCommerce store's revenue is created by only 10% of its customers. Give your biggest clientele the recognition they deserve – make them a VIP customer! To find exactly what defines your highest-value customers you should track and measure metrics such as: the number of purchases, average order value, customer lifetime value or high-profit purchases. By segmenting your audience and notifying customers when they're approaching the required status threshold, you can increase the possibility of new orders. When a customer gets within spitting distance of becoming a VIP, send them a pre-VIP teaser reminding them they are very close to becoming a part of something unique with a ton of benefits included within your VIP program.
And by far the most desired customer journey by our clients is – the abandoned cart series!
Abandoned cart
7 out of 10 eCommerce customers abandon their cart before checking out! Let that sink in!
An abandoned shopping cart email is the backbone of eCommerce. It is a pre-purchase email sent to an individual who has added items to their cart and gotten through a portion of the checkout and then backed out without making a buy. These prospects have shown strong purchasing intent so it's vital to act upon it and nudge them into completing the shopping process.
Abandoned cart automations are as much of a craft art as they are a science. There are many different approaches to the subject matter. Don't just send one email and put a cork in it. We propose you do A/B testing of different variations to see what works best for your audience. Use the data you have and conceive the right subject line, copy, and email design as well as the overall strategy and incentive to offer.
Case study:
One of our clients which recently utilized the abandoned cart automation series is Lily Beauty. Neuralab designed and programmed their eCommerce store back in 2020., and we continue to produce content, as well as take care of their email marketing. Lily Beauty introduces you to high-quality beauty products wrapped up in a beautiful modern package. They have, like so many other merchants in the beauty industry, experienced high abandoned cart numbers and reached out to us to conceive, design and execute a customer journey.
Our logic behind the journey was: when a customer leaves a full shopping cart, within the hour they are sent the first email with a purchase reminder (here we target customers who may have gone to look at products on another webshop and this kind of mail could make them come back again). After 3 days the automation checks whether the customers to whom the first email was sent have purchased the product (here we target customers who may have forgotten that they filled the basket). For those who have purchased, the journey ends. For those who did not make a buy, we send a second email with an incentive for the purchase.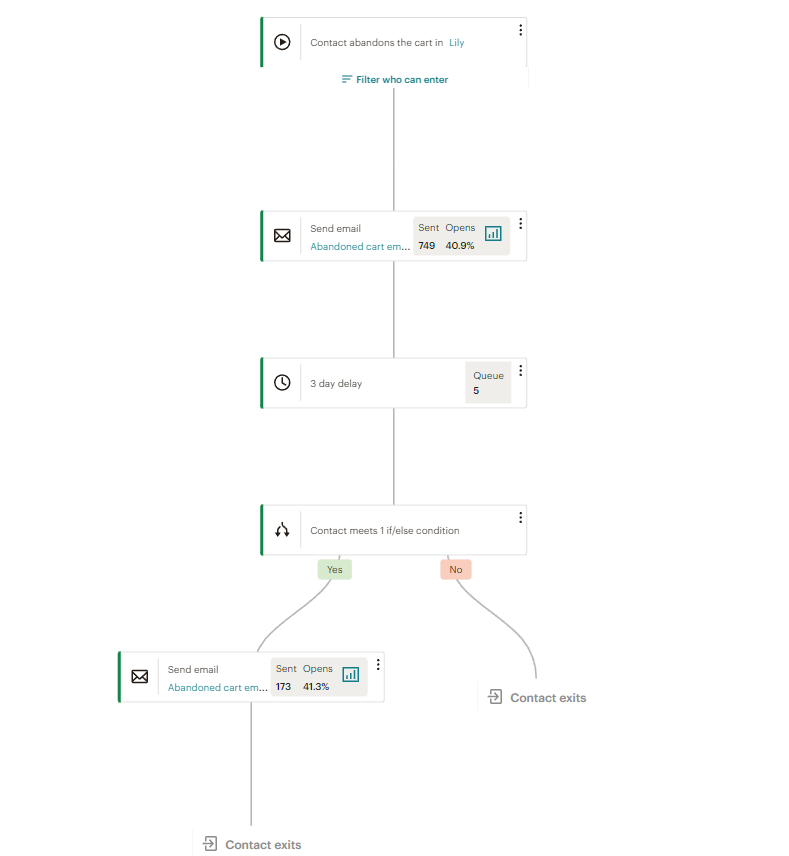 The results? Above-average engagement and greater revenue! The level of order finalization rose to approx 20%, which is practically double the industry average. And all that in only 40 days of active automation efforts. The average open rate is over 50% and the average click rate is 25%.
Top 5 mistakes to look out for
Ignoring the health of your list
An email list is the lifeblood of your business's marketing. You need to gather prospects and turn them into customers as well as cultivate your customers into long-lasting loyal fans. If you provide value your patrons will grow, and that audience will be a much finer source of pre-qualified leads than any social network. How to build a list? The possibilities are endless (loyalty programs, unique content, social media, gamification …) but I'll emphasize the 3 easy peasy prominent options – embedded opt-in forms, pop-ups & overlays, and discounts.
Remember – just because an email list is big doesn't mean it's a good quality list!
Should I clean my list? Also known as email scrubbing, this is a process that scans your contacts and keeps your list free of bad, duplicate, and inactive email addresses. Many email providers can do this automatically but I would advise against it because such a process is never 100% accurate. It's much better to do it manually – reconfirm your subscribers, archive inactive contacts, and fix any typos. Yes, it takes time but you'll end up emailing people who actually open them and your deliverability rates will go up. If rates go up, your clicks go up hence your sales go up!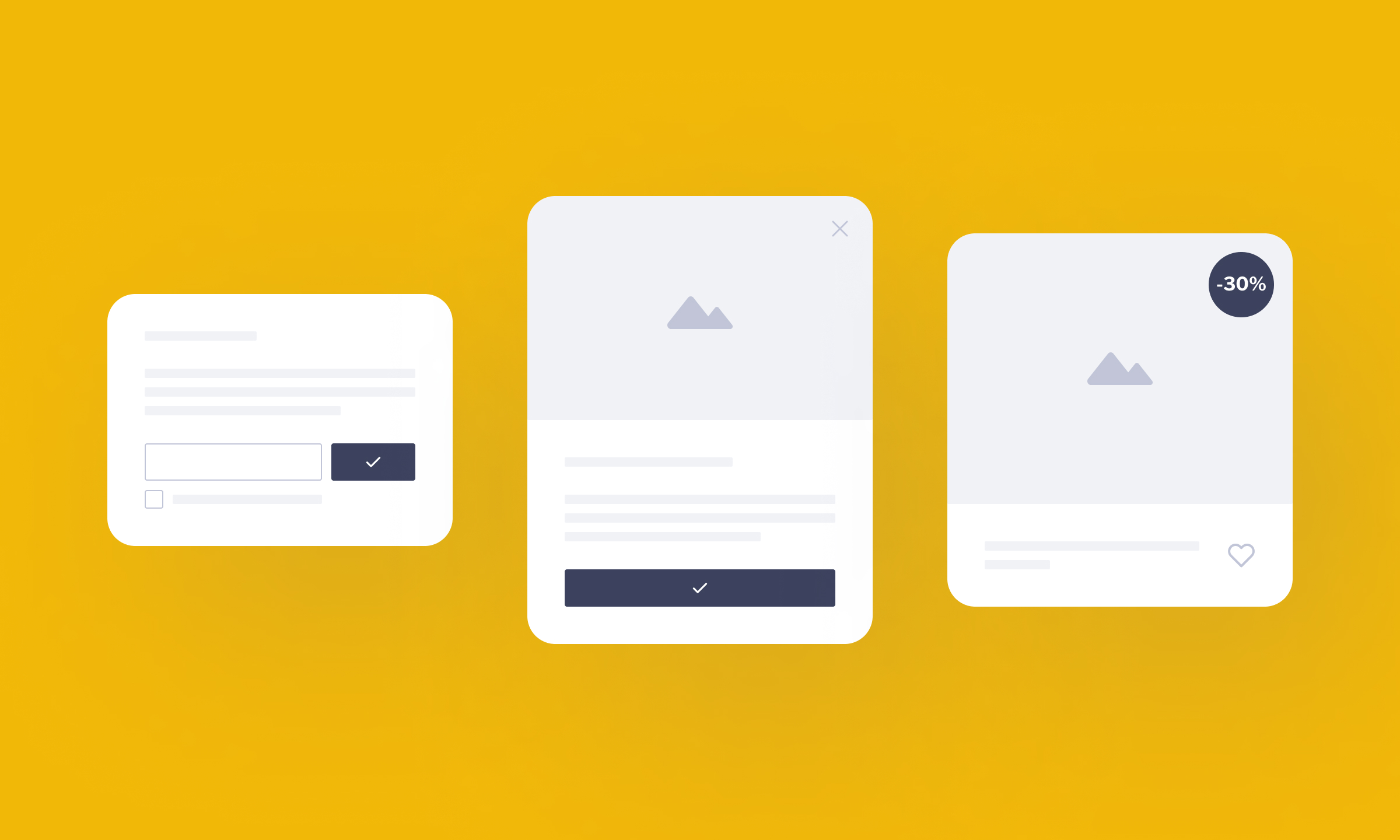 Spray and pray
Do not overlook segmentations! Sending a dead-ringer message to your entire list is a flagrant email mistake that many eCommerce marketers still make. Segmentation is something that everyone knows they should be doing, but few are. Modern-day shoppers get frustrated with irrelevant emails in their inboxes. Keep in mind, simply slapping on a 'Hello |FName|' merge tag in your text body is not enough! The actual content of the email must be relevant to your audience. The simplest way to achieve this is to use segmentation. Your audience contains an abundance of information about your contacts. Segment your contacts based on something they have in common like demographics or campaign engagement. Shopping behavior (such as recently purchased products, cart abandonment, hasn't been purchased in X days, order confirmation…) is exceptionally important while creating customer journey automation.
Using too many unclear CTAs
Do not leave your customers confused! Always maintain a single clear message and steer your users in the right direction. Noob eCommerce marketers are often afraid of over-sending email campaigns and as a result, they build one colossal email full of linked buttons with puzzling copywriting. This places their audience in doubt, resulting in closing the email and moving on with their day. Stick with one objective and plainly say to your customer what they should do next. Make room for bold and bright CTAs that catch the eye. No for real! Use your eyes for a 'squint test' – look at your emails and squint until the content is a bit hazy. The CTA button should stand out.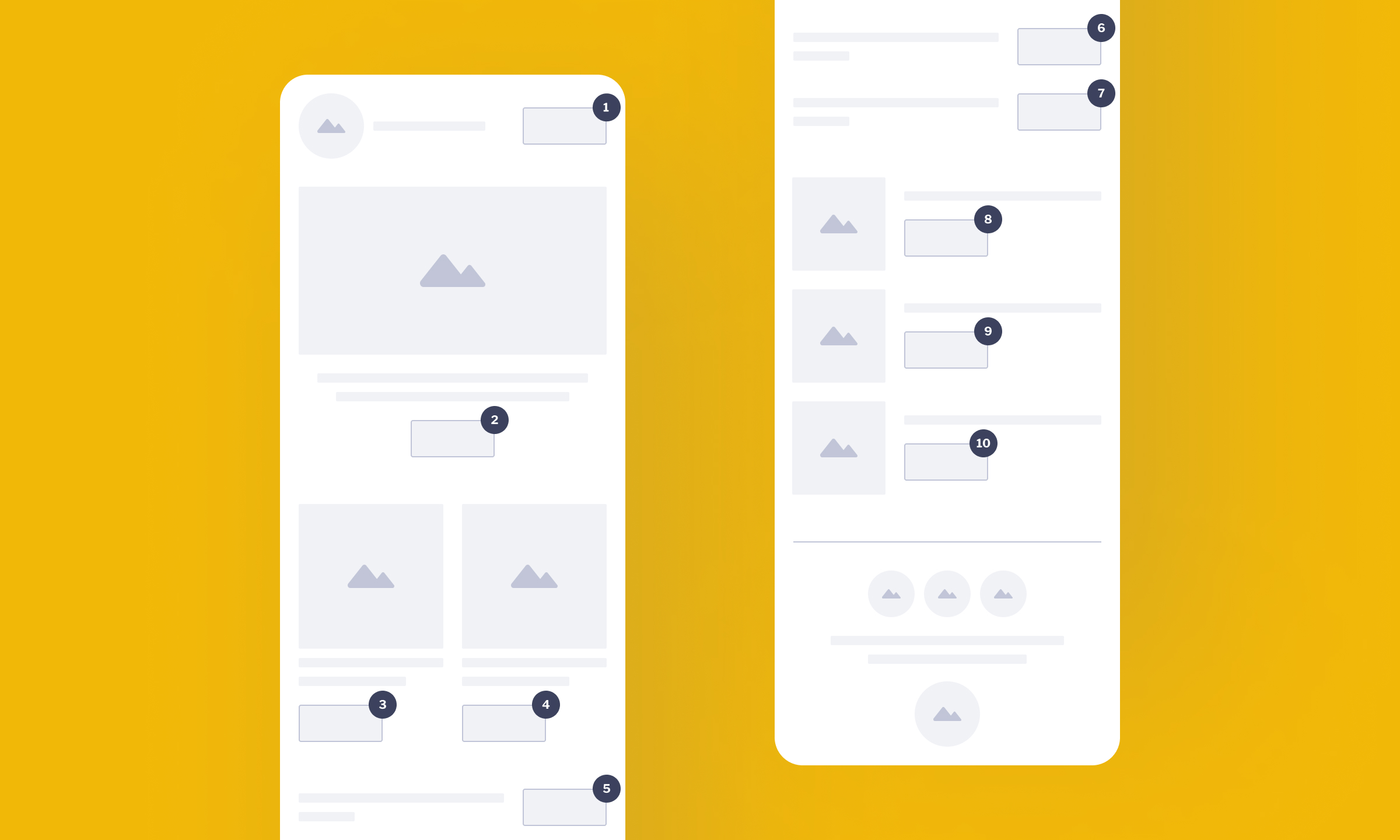 Over-sending
121… That's the average number of emails an office worker receives in a single day. Accordingly, it's not surprising that receiving too many messages is the number one reason why many people unsubscribe from email lists. Less is more! – send only a handful of emails that your customers will be glad to receive. Also, pay attention to those customers who have entered a certain lifecycle workflow. For those who entered your cart abandonment automation, it may be wise to generally pause promotional email campaigns. Focus them on the things they are already smitten with. Also, pay attention to newcomers! Include subscribers to your promotional campaign list only after they've exited a welcome series workflow. Nobody wants to be whammed with tons of emails as soon as they sign up.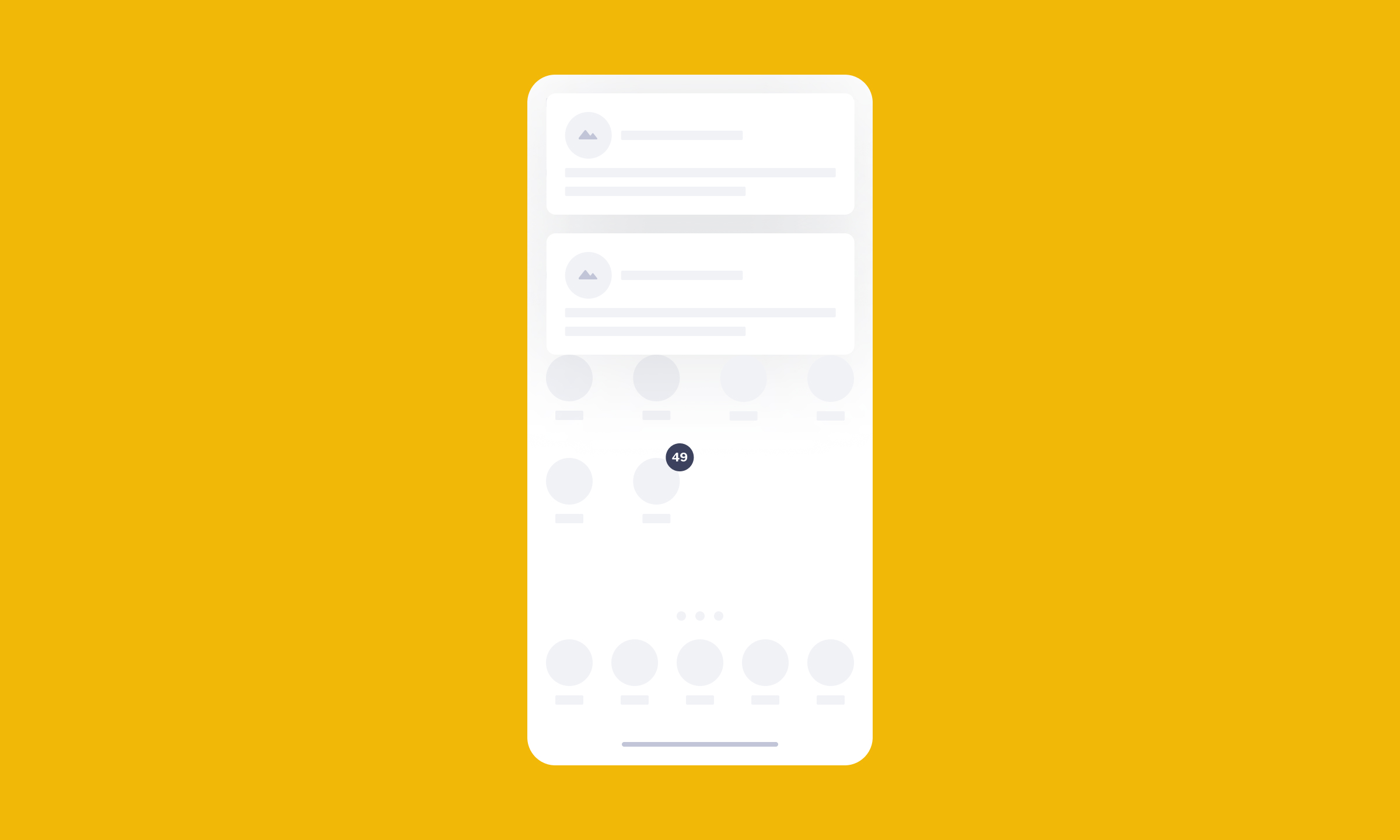 Making your automations look&feel too much… automated
When sending your campaigns, do not make your customers feel like they are listening to Kraftwerk – We Are The Robots! Nobody likes receiving emails that seem unnatural, forced, and impersonal. Find your voice and add a personal touch to your messages to make the communication as authentic as possible. Try to write like you would to your friends (but don't be overly friendly ;)). It's always a good policy to pick a credible sender's name and ID in order to give your writing a human character. If you don't have the knack for scripting genuine copy, you should consider hiring a copywriter who will help you to "humanize" your emails.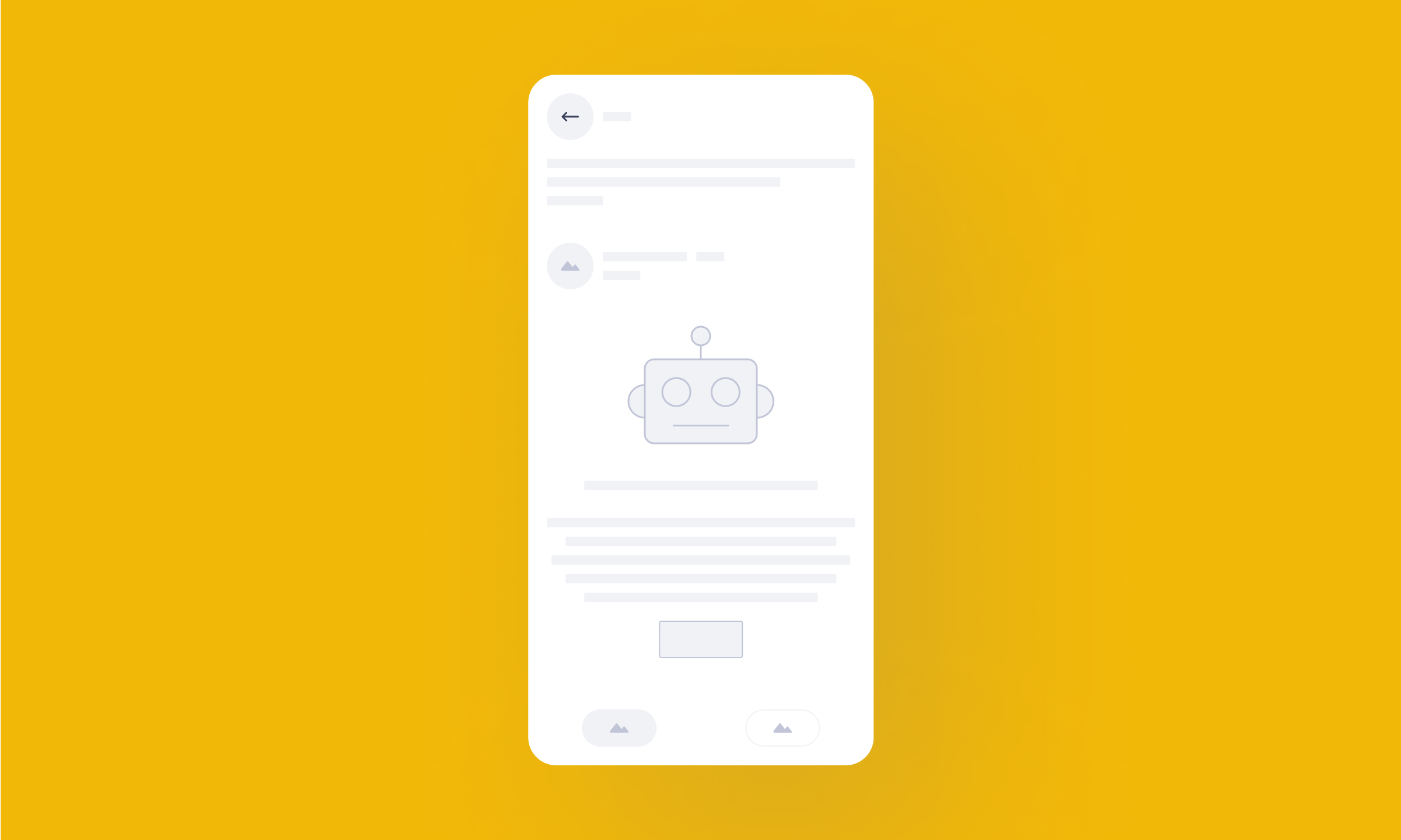 Conclusion
Time is money! Having this in mind, email automation is among the most important tools in your marketing depot because it cuts out a large chunk of the repetitive tasks involved in setting up email campaigns. They allow you to reach proper customers with an appropriate message at just the right time. But remember: Just because you are 'automating' doesn't mean that you're on autopilot and no work is required! Setting up a customer journey takes time and a bit of know-how. However, when launched, everything you do afterward is a matter of knowing your communication philosophy. As the title says: You reap what you sow automate!