PHP Developers! Join our team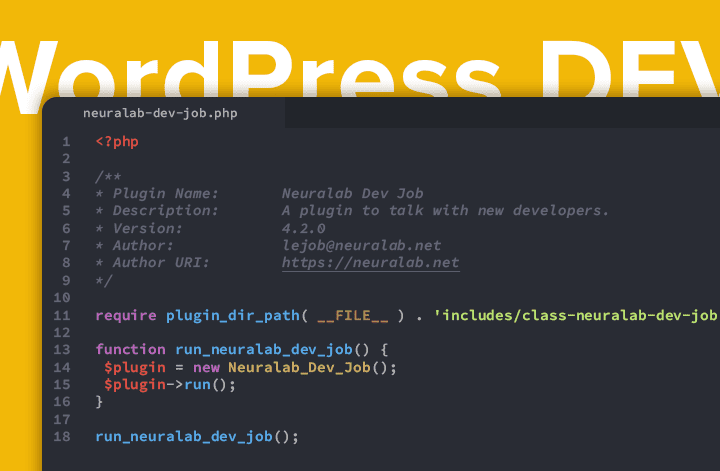 Hello! We are a multidisciplinary team of designers, developers and content makers building tailor-made web applications. If experimenting, learning and producing high-quality custom applications is "your thing", than Neuralab is a right fit for you. We are focused on big-scale eCommerce projects and our development team is craving for new PHP teammates!
Job details:
Type of work: Full employment in web development, indefinite time, full health and pension benefits
Location: Zagreb or remote work (see Type of office section)
Expected working hours: 40 hours weekly sharp
Paycheck during sick leave: full (100%)
Vacation days: 20 (you can freely use them right away)
Child care: you can have flexible hours with mentor if you need special child care
Start of working day: flexible from 8 AM to 10 AM
Commuting: Trnje (our Zg location) is located in the heart of the city! You basically need 15 minutes by car to get from or to any neighborhood. We are a walking distance from tram or bus (hah, we are even a walking distance from river Sava where you can stretch and run from angry designers :))
Type of offices: you can work remotely OR in the Zagreb office. We believe in quiet team-based offices so you will work in a cozy room alongside 2 to 4 people (your assigned team). Free car parking and bicycle space is included
Compensation and Annual bonus: based on your knowledge, teamwork and camaraderie
Mentorship: full mentorship with daily progress talks (mentors have 10 years of web tech experience and can be your pals and saviours when bugs arise)
Tools of production: i3/i5 CPUs, 16GB RAM, SSD, VirtualBox VMs for local development, Google Cloud platform and AWS VMs for online development, Atom, Visual Studio Code, Google Apps, JIRA, Trello, Harvest, BitBucket, DeployBot, GitHub, New Relic, Rollbar, Creative Cloud account, Figma, Invision, RealTimeBoard
Technology opportunities: our work is based around Open source technologies like LAMP stack, WordPress, WooCommerce, REST APIs, Node.js for custom apps. We push ourselves a lot in the JavaScript and PWA direction. Our hosting is based on Google Cloud platform with integrated AWS services like Lambda crons, SES, S3 etc.
Learning opportunities: massive! You will work on internal experiments and Open source projects (PWA, Node.js, WP REST API, Ethereum apps, WP plugins, 3rd party integrations etc.). Additionally, we have partnership with two education centers – HalPet and Ciceron where you can learn new business and communication skills. All of which are compensated by Neuralab team.
Online learning: Full access to Lynda, Treehouse and Neuralab internal library. We are the only Woocommerce gold partner in the region and have access to WordPress (Automattic) experts and their libraries.
Conference opportunities: extensive! Neuralab is a proud sponsor of most Croatian IT conferences and we regularly visit international events like Smashing Conf in New York, WooConf or WordCamp Europe.
Lecturing or writing opportunities: far-reaching! Neuralab team writes and talks on eCommerce, web development and interactive design topics. For instance, Our Ana and Marina gave a design talk on KulenDayz, while Kreso did a lecture at Smashing Conf NYC. Our blog is filled with team wisdom and you can freely join our knowledge sharing efforts! (See gallery)
Team quality: Our team is constantly talking with our clients and we believe in strong feedback. We currently hold the highest grade of Croatian web dev companies at 4,9 by 18 reviews and we are selected as Global Top 3 eCommerce development team
Job requirements:
Working experience: 1 year of commercial development experience
Development knowledge: PHP, SQL, HTML, CSS and JS knowledge. It's a bonus if you know WordPress, GULP/GRUNT or LESS/SCSS
Communication proficiency: Ability to effectively communicate your ideas, excellent English skills (both written and spoken) and pleasant team communication skills.
How to get a PHP Dev job at Neuralab?
Proud of some piece of your code? Upload it to a GitHub public repo (plugin, snippet, library, class, helper function… anything goes).
Send us your CV, cover letter and a GitHub repo link to lejob@neuralab.net. Deadline for sending your materials is 9th of February 2018.
If everything looks good on paper and screen, we will invite you to meet the team.