WordPress executive summary 2016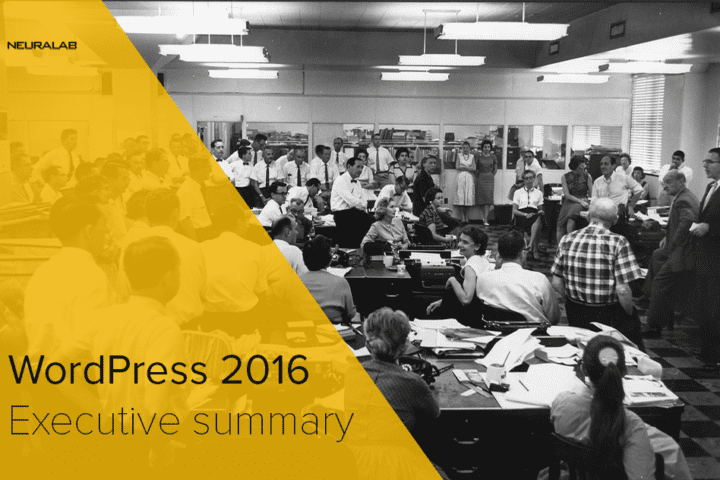 This WordPress summary is intended for executives and editors working in marketing, sales or editorial departments. It's especially geared toward decision-makers evaluating various Content Management Systems (CMS), and looking into a new web platform to support their business needs.
In 2016, WordPress is powering more than 25% of all websites around the world. Most importantly, it powers more than 50% of all websites that use some kind of CMS. The goal of this summary is to give a clear and objective overview of typical myths and objections that surround this large ecosystem.
1. WordPress is for both small and extremely large websites (true). This is not unusual in the IT world as the number of articles, pages and pictures is not a problem for any CMS (WordPress included). If implemented correctly, any database can hold millions of articles or products and display them to users. But don't take our word for it… One of the biggest sites in the world is built on top of a WordPress platform ( Sony Music, New York Times, Rolling Stones, MTV… the list goes on … ), proving that you can push WordPress in both ways.
2. WordPress is not secure (false). Any IT system that is poorly implemented and not maintained is not secure. Also, heavily secured IT systems will fail if the users and administrators are not properly managing their credentials. On the other hand, WordPress core is highly secured and regularly updated with the power of a community that counts several hundred developers. Take a look at their security report if you're interested in detailed auditing. Note that several corporate systems and applications that you use every day in your company are on an insecure list with hundreds of vulnerabilities found each day. WordPress is not even close to this list.
3. We cannot integrate WordPress into our system (false). WordPress can be installed both on Windows and Linux servers. The code is OpenSource and free, you will own your database and data. WordPress has a clean and powerful "connection engine" (REST API) that your IT department can utilize to connect with any other IT system (both ways). Needless to say, its code is very well documented and regularly updated in all major languages.
4. All WordPress sites look alike (false). The design of your website is not connected to the CMS platform i.e. any design that you want to publicly present can be programmed into the so-called "WordPress theme". Take a look at point 1 and you will see a variety of styles, colors, fonts and layouts…. all on WordPress.
5. I cannot customize WordPress to fit my business needs (false). WordPress is an OpenSource tool, meaning anyone can customize its core, optimize it or change it for good. But, its real power and function is within various extensions and plugins that enable any online functionality that you can think of. Typical use cases are: syncing users to SalesForce CRM, sending massive automated marketing campaigns with MailChimp, processing credit cards with Stripe payment gateway, populating your editorial calendar via Google Calendar API etc. One feature of WordPress is especially focused on building large and complex sites: Custom Post Types and Custom fields. With these, you can manage any type of data and present it to your users. Books, cars, bikes, food recipes, interviews, movie reviews, products (with WooCommerce which holds 37% of eCommerce market)… anything can be managed via WordPress CMS.
6. I need to regularly update my CMS with new features, content and functions (true). Various users, commenters and (especially) analytics will give you feedback on the quality of your existing website. For this reason you need to constantly test new features, functions and content forms. Chosen CMS plays a huge role in this process as it gives you the power and the tools to get the job done. WordPress excels in this way as you can tap into the vast ecosystem of vendors, developers, designers and content teams that have relevant experience with any type of website. Typical Vendor-lock-in is NOT possible as there are thousands of community members and agencies that can help you out in managing your WordPress platform.
To sum up, these questions were compiled from our past meetings and workshops with various clients. It's not an exhaustive list of your troubles and questions so please write us any comments or feedback. We will be happy to help in shedding the light on your next chosen CMS.