Digital Lab.in Live Stream video and story points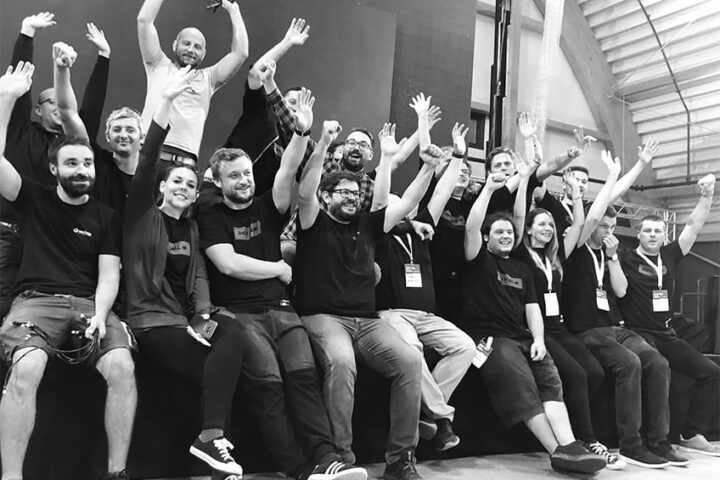 Istria, a perfect setting for any IT gathering. Windays, Weekend Media and Innovation Island have all recognized the energy that this wine & sun county can give to an event. Digital Lab.in travels in the same direction while hosting the entire conference in a picturesque (and polished) town of Labin.
Digital Lab.in is a conference for web designers and developers (with much stronger emphasis on design part). This concept makes it unique as most of the current web events are oriented towards programming and DevOps topics (WebCamp, Windays, WordCamp and various dev meetups). Conference was organized in two parts: full-day workshops on Friday and one-stage one-track conference during Saturday.
Workshops were handled by the teams from Prototyp ("Advanced typesetting on the web"), Lloyds Design ("Why React Native is the future of building mobile apps") and Smashing Magazine's Vitaly Friedman who gave a tremendous amount of online materials for his "New Adventures in Responsive Web Design" workshop.
A swarm of designers and developers clogged the town library WiFi, overheated their laptops and crunched some serious workshop code for the whole day. After that, organizers made sure to refresh our dev skills with "Medica", "Borovička" and "Dunja" hot shots, fueling heated debates of responsive email designs respectively. Our favorite workshop pro-tip : use table cells as pixels to construct an image inside an email. This is useful when there is an absolute need to show image in the email (no matter the client, no matter the device)
First day of the weekend was reserved for an 8 hour drive of web production practices or talks from industry experts. You can watch the full event video here and absolutely ignore my writing >
Daan Klaver that builds in Amsterdam gave us couple of opening tips on how to manage your eCommerce team ("12 principles to create great e-commerce brand experiences"). Overall, these were good advices, but some of them were in contradiction (or pretty dangerous) from the modern eCommerce production perspective:
"You're never finished" – this is an older concept from web development where teams need to constantly work on evolution of the application. Recent research shows that downtime and retrospects tend to be more useful to developers and designers than constantly pushing new changes onto the app.
"It's not about conversion" – Daan stated this, but then introduced couple of "buts" making the whole point invalid. In essence, we DO need to talk about conversion as in the end, our clients need to generate revenue from their eCommerce platform and stating otherwise is an overly bad simplification.
Next talk was from DogStudio CEO, Henry Daubrez. He showed us some "good shit" (an obvious go-to word for French dog lovers) All in all, Henry presented great work from his studio which you can scan in their super-packed 30 second showreel >
Vitaly's talk was named "Dirty Little Tricks From The Dark Corners Of Responsive Web Design. – Strategy for crafting fast, resilient and flexible responsive design systems." and it truly transferred quality knowledge to the whole audience. Conference corridors noted this talk as one of the best in the whole event. On a more development note, Vlatko Vlahek from Prototyp elaborated the usage of Service Workers in Progressive Web App concept. This was a clear and concise demo that presented what is the next cornerstone of the web development industry. Watch out for this technology as it will change how you think about user experience concepts on mobile web, especially offline experiences.
At the end of the gathering, the question was asked – "What Tech CEOs Want From Croatia's Best Tech Talent" ? Ivan Brezak Brkan (Netokracija) and couple of us tried to give answers to this ever lurking topic. We touched paychecks, freelancing and product VS service talking points and the arguments continued after the event as well.
Overall, pro tips and advices were flying all over the place – we wholeheartedly recommend visiting this event next year as it is geared towards expert knowledge that other similar conferences are lacking. And here's an idea – you could apply for a WordPress developer job at Neuralab and we will take you there ourselves!
Photo credits: Ivan Brkić, Bruno Zagorščak, Digital Lab.in photo crew