WINDAYS 2016
Once again, we teamed up with our friends and colleagues from Netokracija to bring you live and exclusive coverage of Croatia's biggest tech conference- WinDays! Throughout 4 days of the conference, we've done over 20 backstage interviews with prominent lecturers and influencers from of the world of the technology business.
The conference itself was divided into 2 days and 2 themes. WinDays16 Business conference was evaluating possibilities of economic growth from the positive aspect and address to creation of the conditions for development and attraction of talents. Participants of WinDays16 Technology heard the news from the IT world and got introduced to technological tools and solutions that can improve business, as well as the organization of the personal life.
Lectures were relevant and interesting, and the people all around were happy and seemed to have a good time. In these conditions, we enjoyed doing our thing and are happy to bring some additional and limited content to the viewers.

ZG OMGCOMMERCE
The 4th edition of Neokracija's OMGcommerce is behind us. This year Neuralab was a co-organizer with live stream production and e-commerce coffee both. This major event about digital economics took place throughout three days at Zagrebački Velesajam and HUB385.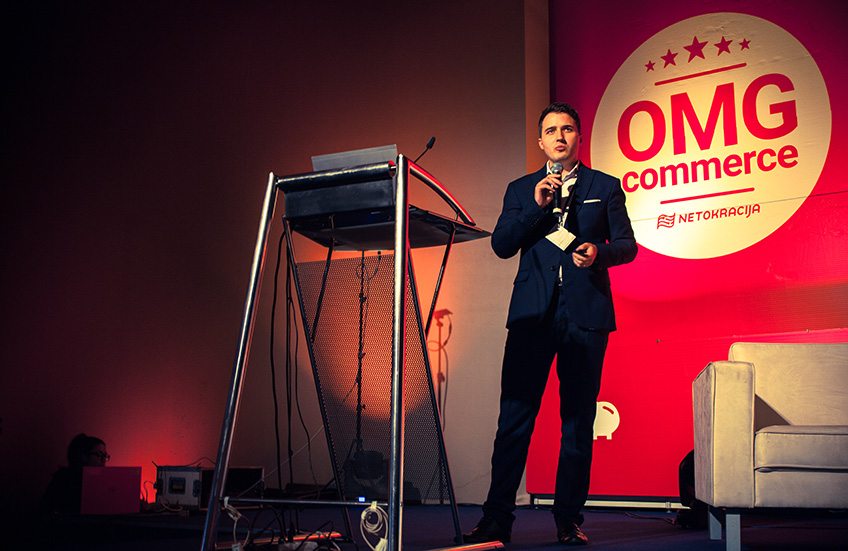 We witnessed lots of education talks, lectures, and network possibilities. OMGcommerce once again proved its role as the biggest conference about digital economics, trade, and tourism in SouthEast Europe. It was our pleasure to be part of this story and in the company of major players in this field. What were keywords which were most used during lectures? Experimentation, measurement, disruption, logistics, delivery, loyalty, innovation, user experience, online/offline merge.
You could even listen to topics on how to properly structure your offline shop (using online knowledge) and how to digitally measure visitors in your store (while using this data to give better product recommendations). Seems to us that all eCommerce conferences have some kind of "robots-thing" about them. Interesting times are ahead! After the first day and main event all was moved to HUB385 where expert business educations took place. The third and the last day was reserved for closed Ecommerce Executive Forum.

WORDCAMP SPLIT
In case you did not know, our Santa was a lecturer on WorldCamp conference in Split. This conference was placed at Faculty of Economics. What were the topics?
The workshop was organized to cover three main phases of every WordPress project: Planning and preparation + WordPress project execution + after-launch support phase. Each topic was segmented to host an intro, Q&A, and interaction with modern tools of the trade.
While WordPress makes publishing easy, it's the another way around when you need to carefully plan your next WP project. As with any software building process, we will look into various topics that can influence our project success or failure: design, clients, budgets, timetables, pesky bugs, user feedback etc.
Software development projects are a complex nut to crack and WordPress is not an exception. This workshop looked at typical traps of most WordPress project and how to avoid them. First, planning and preparation phase where various project roles and types of business requirements to kick off a project into execution were defined. Execution topic covered team handling and overview of modern tools to help you out in project production. The last topic was oriented towards launching your project into the world and managing first feedbacks, support tickets and how to integrate them into the evolution of the WordPress app.

LADIES OF THE BUSINESS – November 22nd 2016.
Where are women nowadays in the ICT industry and what is their status compared with men? The answers to these questions gave inspirational women lecturers who shared their own examples and stories. Although many women hold key positions in the ICT companies, they are making only 1/4 of a workforce, and are paid 30% less than their male counterparts.
The main message of this year's conference in Zagreb was – Stand up for yourself!
Neuralab was once more a production partner for the conference. Our video production Transmeet.Tv did a live stream of the event for your viewing pleasure. Since all the tickets for HUB385 have been sold out, this was the only way to check out what do all these inspirational and motivational women have to say.

BLIND HACKATHON
There are a million ways to die like a hero in the West, one of them is Blind Hackathon – the blind code-writing competition. No browser, no processor, no terminal, no gulps, no grunts – only you, text editor and good old HTML, CSS, and JavaScript! The competition is designed to test your coding skills and it is an opportunity to show the world how awesome coding-ninja you are.
The rules are simple:
8 hours of coding
1 person
1 subject
Live Arch Linux USB with preinstalled text editor, html5 boilerplate, CSS reset & jquery- stripped off of all unnecessary things, like browser and internet connection 🙂
Two previews during hackathon to see how the code looks like in the browser
1 winner
The competition was fierce and nuances decided on the winner.